Sanjay Ayre, born and raised in Kingston, Jamaica, has led an illustrious career in Track & Field. While still in his home country, he set 200M & 400M records at Hydel and Excelsior High Schools (Kingston, Jamaica). He moved to the US at the age of 16 where he would set similar records at DeWitt Clinton High School (Bronx, NY) where these records still stand today. Midway through his senior season of high school competition, and just after winning the Indoor 400M High School National Championship, Sanjay was selected to travel to the World Indoor Championships in Maebashi, Japan where he would receive his first taste of professional competition. Upon returning to complete his senior outdoor season, Sanjay secured the Outdoor 400M High School National title as well, ultimately earning him the designation of High School Athlete of The Year in 1999 and also finishing his season as the fastest junior (U20) 400M athlete on the planet.
Following high school, he attended Auburn University on a full athletic scholarship. While competing as an Auburn Tiger, Sanjay was recognized as the NCAA Freshman of the Year in 2000. While still enrolled at Auburn University, and after wrapping up a successful freshman season, Sanjay gained his first Olympic team appearance when he was selected to represent his home country of Jamaica in the 2000 Olympic Games in Sydney, Australia. He and his teammates later earned a silver medal in the 4X400M Relay. Upon returning to school in the fall, Sanjay was more motivated than ever. He maintained that momentum throughout the remainder of his collegiate career and would eventually garner a record 13 All-American Honors in the 400M, 4X400M and 4X100M.
After graduating from Auburn University Sanjay was able to focus 100% on his professional track & field career. In doing so, he would go on to compete in the 2004 Olympic Games (Athens, Greece), 2008 Olympic Games (Beijing, China), multiple World, Pan-American, Central-American, and Caribbean Track & Field Championships. He was the 2007 Jamaican National Champion 400M and possesses many other gold, silver, and bronze medals which represent his hard work and dedication over a 12-year professional career. He's traveled the world and established both friendships and a professional network that he is now able to leverage on behalf of MVP Fitness.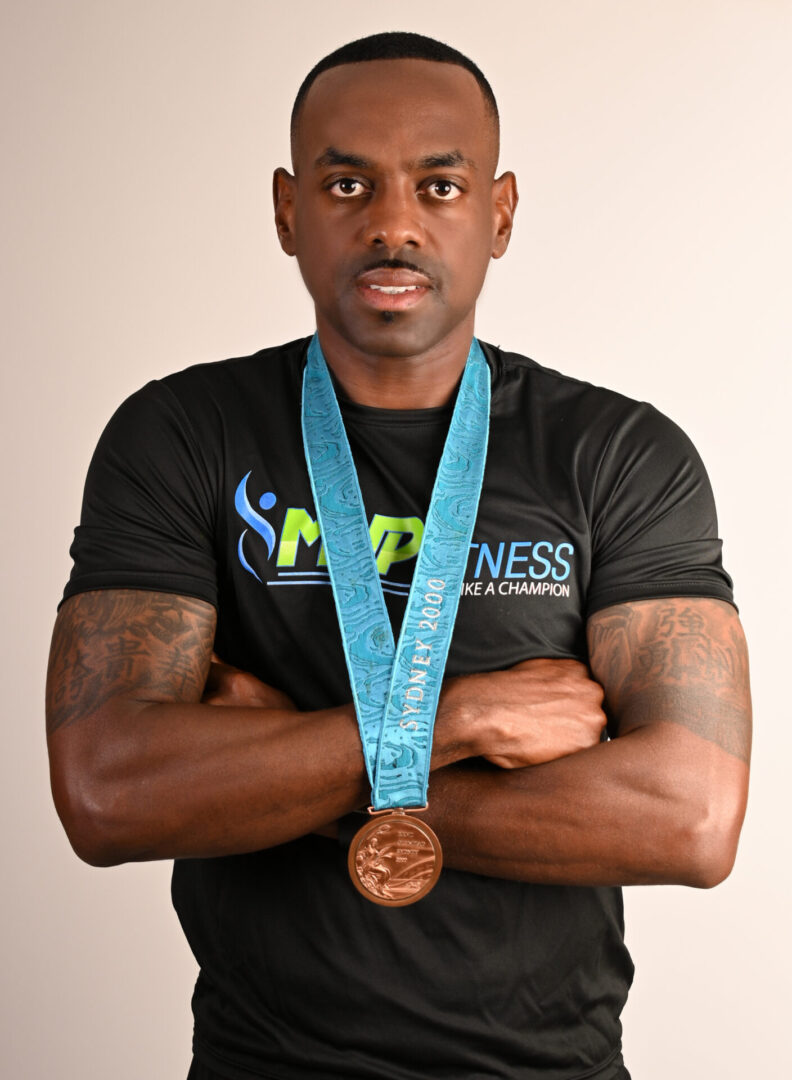 Sanjay Ayre founded Maximum Velocity Performance (MVP) Fitness in 2012. MVP is a fitness company that provides a broad range of Sports & Physical Fitness services, with a passion for helping clients from all walks of life, reach their full potential.
MVP Fitness offers a variety of programs including:
i. Sports Performance Coaching
ii. Personal Training
iii. Speed & Agility Camps
iv. Corporate Wellness
v. Group Fitness Classes
Sanjay draws from his athletic experiences to educate on the fundamentals and techniques which brought him athletic success. He's renowned for his drive, focus, determination and work ethic, and brings that same dedication to his role as President of MVP. He has a passion for helping his clients and enabling them to become their best self. Since his retirement as an athlete, Sanjay has also established himself as a Professional Track & Field Coach. He founded, Chase Athletics Track Club in 2013, a USATF Sanctioned track & field organization. Sanjay is the Head track & field coach and is responsible for all the coaching responsibilities. He specializes in coaching the sprints, hurdles and middle distance. He holds a Bachelor's Degree from Auburn University in Criminology, he's a National Academy of Sports Medicine (NASM) Certified Personal Trainer, USATF & IAAF Certified Track & Field Coach, and Global Sports Ambassador for Puma.